Dinner on our first night. The lighting here needs work so we are using our citronella candles to produce a romantic glow.
Travel Day
Stephen:
An easy day. In fact , we won't need to change supermarkets if we need one here in Deshaies we will use the same SuperU as in Sainte Rose. It is near the border of the two towns. We stopped in to pick up some staples: rum, raw sugar, limes, (these go together as the ingredients of Ti Punch), rosé wine, bread, cheese, chocolate, coffee, fruit juice. The fruits and veggies we can get from the vendors in town
We have learned something about Ti Punch on this trip. Very often, when you order it in a bar or reataurant, they bring you the ingrediants and you make it yourself, or a glass with the lime and sugar already in it, and you pour the rum yourself. When we had our hosts over for a drink in le Moule, we learned to do the same thing but add "Kill yourself". That is the tradition. Everyone gets to choose how much rum to put in their drink. Good idea, since the punch is really straight alcohol.
We stopped at Plage de Perle, one of the best on the island, either to find a carbet (A little shelter) on the beach to have a snack, or have lunch at Madras 2, We have been here before, walking over along the shore from our studio, Mangoplaya. No carbets were available so we had lunch and it took care of most of the four hours between Airbnbs. It was just slow, but we had a table on the sand, in light shade. The rains lasted 45 seconds or so and the food was good, my Dorade better than Dawn's swordfish. The Rosé was better than we have been buying.
We were headed into town, past Mangoplaya and the main entrance to Plage de Grande Anse, when I took an abrupt right onto a dirt road at a sign that might have said "Plage" and "Samis". From our last visit, we had a sense the the road might lead to a shack that might be a restaurant. It was a first-gear road, around and through holes filled with water, thus hiding their depth, until finally we got to the end where a few cars were parked.
There was the shack with a fire going and one group of tourists at a table drinking beers. It was after lunch time so we had no idea if these had been the only custumers for the day.
We have returned since, seeking shelter there during a morning downpour. We met the guy who comes in to start the fire and cooks the wood down to charcoal. Sami and the rest of the guys showed up in a pickup and unloaded the supplies for today's meal. They were all friendly and there were many handshakes and smailes. The rain stopped and we left and we promised to return. And we better.
But today, a few more steps leads us to the far end of Plage Grande Anse. By eleven o'clock, the main parking is full. If we didn't mind driving at a snail's pace, we could drive here to go to the beach, especially if we wanted to go on into town afterwards. Normally, we just walk down to the beach and then home. But now, our four hours are up, and we head to Mangoplaya, where Daniel lets us through the gate at the foot of the drive, watches us mount the road in first gear, gives us keys to our home for the next three weeks and waves good-bye in his cheerful manner. Ray, the owner, is in France attending to family matters.
The Last Palm Tree
Hi readers,

Don't tell Stephen and Dawn, but I am living in another beautiful Palm Tree at the end of their latest pool, but she already had guests, so after the sun comes up over the hill, I live as the shadow of the tree. I love the first hours, lying in the water. If I said you could do something like this, you would scoff, so I'm not going to. I won't even tell you where I live at night.

You know, down there in Petite Anse, he did a cute thing. He meditated as if he were me. He thinks of me as nothing and he wanted to reach emptiness by starting with my nothingness. Stephen, I am everything, start there. Still, other things went well. He returned to the present many times, remembering to smile, even though he let one fantasy go on a little long. Buddhists have this thing with the breath that drives me crazy. It keeps them way to connected with life. Another thing, can we not sit in the front seat of the car? Yes, I know it was raining, but still.

(signed) Zak (was Jupiter)
No Time Like the Present

Dawn:
Every time I look up at the kitchenette wall expecting to see a clock, I see a blank, slightly convex circle with a couple of nondescript designs around the edge. It is devoid of clock hands; it is blank; it says nothing. It silently reminds me that there is no time like the present, that in fact, all we have is the present. The past is gone, and the future is not yet here, so Be Here Now, as Baba Ram Dass reminded us in his classic book from the 70's. Being here now is very much what we do on these trips, but don't laugh, it does take practice.

I am conditioned to feel that being creative, useful, producing or achieving something is vastly important. So part of the reason I write is to feel like I am making some creative shape out of our travel experiences. Yes, I hope that those of you who read our ramblings will find something thoughtful or just entertaining in our writing, but I believe I do it out of a personal need to remember, shape, even validate our experiences "on the road."

Still, the kitchenette clock that is not a clock but actually a lighting fixture, does remind me of what a Buddhist friend, Arawana, said to me years ago, "Productivity is overrated."
---
Drama in the Cove
Stephen:
We got up early, did not stop to meditate and were headed for Petite Anse to snorkel when it started to rain and the carpenter showed up. The carpenter was easy to deal with. Not-our-job. Here was here to finish the storm doors and put a small roof over our doorway which will give us a small space to sit in the afternoon with some shade. We were warned Monday evening that he might come Tuesday morning and that it might be a little noisy. Today is Friday. He got a lot done, the cantilevered frame of the roof is up, but he is finished for the weekend.
The rain was predicted, but they have been wrong so many times that I ignored the meteo. It didn't rain for very long and stopped as we drove, Once we were on the beach, the grey clouds came in over the hills and it began to rain again more seriously. We headed back to the car and meditated in the front seats for twenty-five minutes. When we were done, the rain was gone (mostly) and the sun had returned.
On my second snorkeling cruise of the day, I headed for the left side of the cove which meant swimming over a largish patch of sand with a few scattered about. I swam over a group of yellowtail snapper grouped around some rocks with their noses all dug into the crevisses. I stopped. All of a sudden a small octopus zipped out for about three feet into another hiding place. Half the group, went with him but were a touch too late. The other half missed the escape and were still trying to find him at his old home. In a minute or so they all lost interest. When they left, I lost track of his hiding place and I too moved on.
Langley Hotel Resort Fort Royal Guadeloupe
Stephen:
This is a big place, a destination resort just up the road. It used to be a Club Med until they were bought out by the Langley people. It is a big ugly thing that juts out on a spit of land into the sea with some beach bungalows that they added on. We went to see how the other half lives. I am not going to write a review here, but I will say that it seems more like a camp than a Caribbean resort. It has to do with all the Americans and all there children. The hotel may not have enough money to landscape their extensive grounds, although the hurricane could have swept away some of it. The beach was thin, but it was in a lot of places.
All the staff that we met were nice. Well, I guess that would be our bartender, Fanny who assured us after we asked that she could certainly sell us a drink with which to watch the sunset. The drinks were good, reasonably priced, the free sunset was okay and I think the green flash was pretty good also. Fanny had an id tag that indicated she spoke French and English, but very nicely spoke French to me.
We walked on the boardwalk to return to our car, and were forced to go through the boutique, not unlike the exit from a touring show in any museum today. We both felt as we left that we didn't need to come back, but I think we should remember that we were invaders here. The guests hopefully were developing a social life, their kids were meeting other kids. Parents were hopefully getting time with their kids and without. I say, good luck to all of us so we can find the vacation that refreshes us.
Un-Named Beach (Betty and Didier)
Stephen:
We grabbed our snorkel gear and stuck it into our red bag, (another great lightweight bag curtesy of Patrick H.) and hiked on the trail to Plage de la Perle. We were hoping to find a place to snorkel within a walk of our house. In fact, we made it shorter by taking a semi-legal cut through the property of Taino Lodge that was indicated by google maps. Almost all trails on google map are semi-legal. I don't know where they get their info. I think they just guess. It was a sand and pebble beach in a cove where it can be hard to get into the water, and harder to get out. On the way in, the braver you are about getting wet quickly the sooner the water takes your weight off your feet. But you don't want to belly flop onto some rock you didn't see. Once in, it was pretty good. Off to the right again. The prevailing wind and waves on this coast make the right side of all the coves the preferred snorkeling spot. Nothing dramatic this time, but more of the big yellow-tailed snappers. When I was searching for photos of them online I found a lot of recipes for them. It gave me pause. I guess that all these fish are somebody's dinner. I may come back to this.
While we were standing on the beach drying off, we met a women who wanted to practise her English with us. We had a great talk diving back and forth between the two languages and Dawn sometimes going off into Italian. Her name turned out to be Betty which we finally learned two days later when we met Didier, her husband, in a pizzeria where he was picking up dinner for the two of them, their son and wife, their three childred, and her son's business partner and wife, who had just descended on them from France. Good idea not to cook. We also learned that they will be here for a week so that the invitation they had extended to us to visit them in their bungalow needed to be postponed. We said fine. That will be our last week.
Nature Imitates Art
Dawn:
We have surely published several pictures of our lovely Caribbean Sea view....in sunlight, at dusk, with the crescent moon in the sky. Lately we have had some intense downpours when the entire sky turns grey, water falls as if buckets were being emptied on our heads, and the horizon line disappears. Here we are suddenly witnessing a beautiful Japanese silkscreen for our view, all soft, grey and white and subtle. A few minutes later, everything snaps back into view, the dromedary hump of Gros Morne, the rocky point, the crashing waves, the detailed tropical foliage against turquoise sea, the horizon line. From Hokusai to Gaugin, perhaps. Nothing ever stays the same.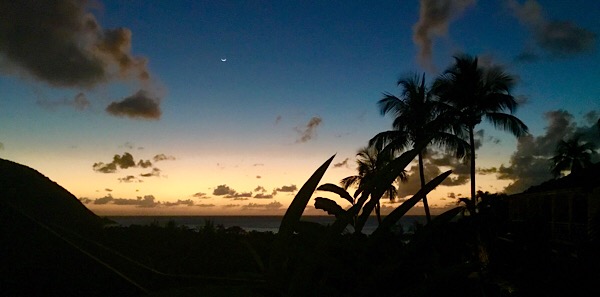 ---
---
---